A Thoroughly Modern Presbyope Recorded Webinar
The webinar focuses on communication skills and understanding of today's presbyopes. It discusses different stages of presbyopia, the attitudes towards presbyopia and the overall awareness of the condition from the patient's perspective. It is designed to allow Optometrists, Contact lens Opticians and Dispensing Opticians, the opportunity to re-visit their own attitudes to presbyopia and reflect on their current practice.
In a forever advancing digital world, this session will explore the visual demands of potential and current contact lens-wearing presbyopes. It will analyse the various contact lens multifocal designs and materials available from most manufacturers and give guidance towards making informed choices on the most suitable contact lens that would cater to individual needs. It will include tips and guidance on looking after these patients from their initial interest in contact lenses, right the way through to becoming successful contact lens wearers.
This is a recording of a webinar that was hosted live as part of our Free Webinar Series. Watching the recording and completing the test is worth 1 CET point.
PRIVACY NOTICE: By completing this free CET course you agree that we will pass your name and email address to Bausch + Lomb who may send you further information on their products and services.
CET Points: 1
CETpoints.com credits: Free
Expiry Date: 31/12/2021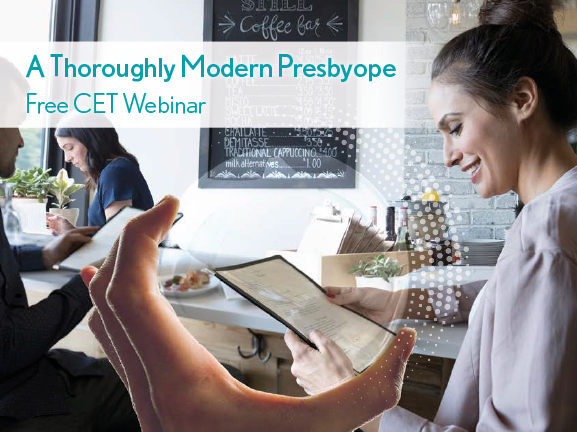 Downloads
Also accepted by